MARINATED AUBERGINES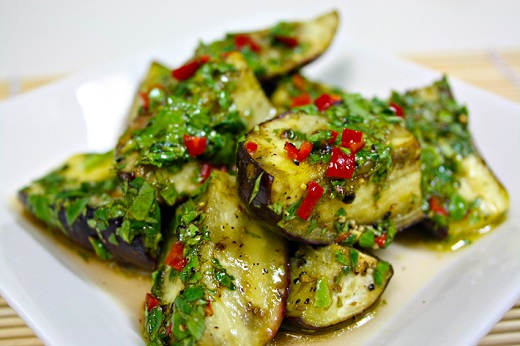 Ingredients:
3 large Aubergines
2 cloves of garlic, crushed and chopped
1 tsp Chilli flakes
2/3 of a cup lemon juice
1/2 of a cup extra virgin olive oil
One bunch coriander, chopped roughly
Salt & pepper
Method:
Preheat your oven to 200 degrees celcius.
Spray a baking tray with cooking spray or line with a non-stick baking sheet.
Cut your aubergines into four and then slice 0.5cm thick slices.
Arrange the aubergine onto a baking tray.
Bake in the oven until the aubergine has cooked through and has started to crsip up.
While the aubergine is cooking, add the olive oil, lemon juice, garlic, salt and pepper to a bowl and whisk together until the mixture becomes cloudy.
Add the chopped coriander and chilli flakes.
Remove the aubergine from the oven and add to the marinade.
To store, keep the aubergines in a tightly sealed container in the fridge.